∞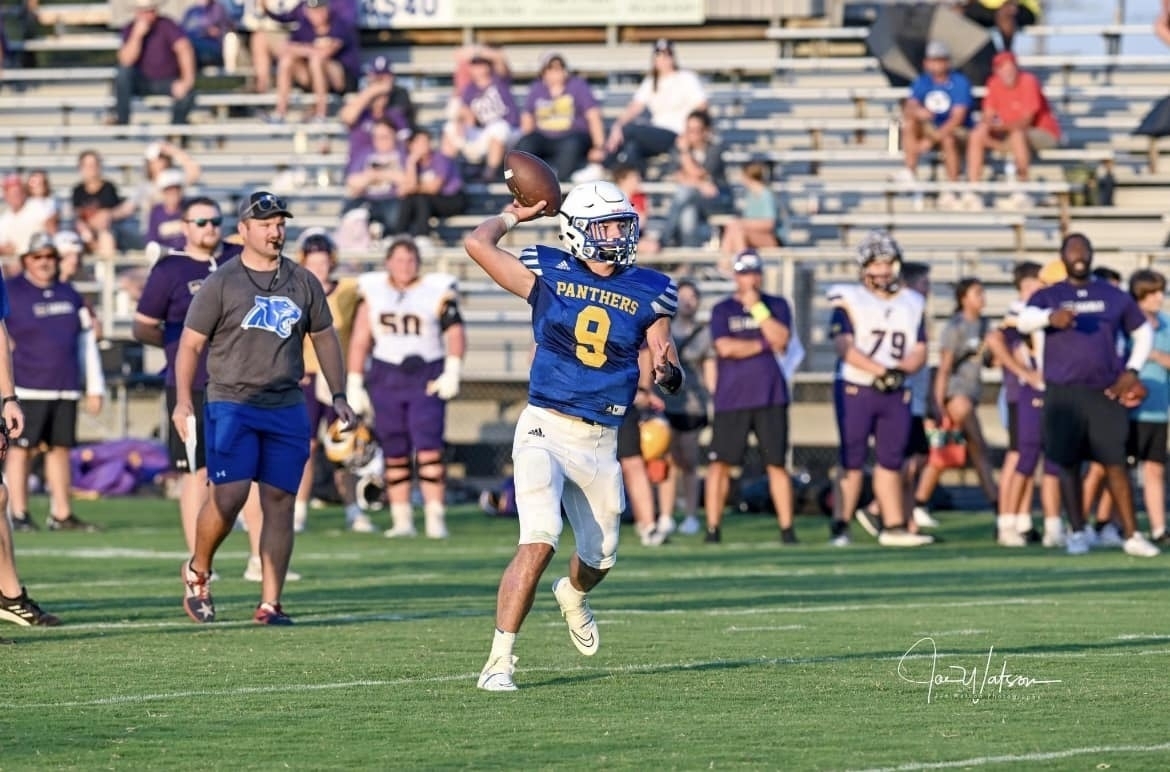 (Photo by Joe Watson)
The North Lamar Panthers open their season tonight at home against Ranchview. It's the third season under head coach Brenton Whitaker. Although the team has only managed four wins in the first two seasons, the progression has moved forward for Whitaker and his staff. After only winning one game in his first year, North Lamar won three games last season including their first district win since 2019.
I had a chance to sit down and talk with coach Whitaker earlier this week to get his thoughts on the upcoming season. Here's that interview.
Greg Higgins: Talk about two-a-days, practicing and how you feel the team is progressing so far this year.
Whitaker: It's really exciting to see, being the third year here and having the consistency in the schemes. It's really starting to take hold amongst the kids. You can really start seeing that progression.
We got Ranchview this week and they scrimmaged a flex bone team in their first scrimmage. It's their first year putting the offense in and I can remember what it was like for us our first year here. They looked similar to it. So it's really cool to see that progression from year one to now and how kids are really taking hold and buying into it and the progress that you make. And the cool thing is is now we get to nitpick on little things versus just wondering like is this even possible is it going to happen.
GH: Were there any students that surprised you during camp this year?
BW: I think you always have a couple surprises. One of our biggest surprises was Tyler Silva. He is a sophomore. We knew going into the summer that he was kind of one of those bubble kids. He could be on JV or he could be on varsity. And he does a lot of soccer camps. He's really involved in band so he does band camps over the summer so we didn't see him much. Then he showed up to get equipment and he somehow gained like 20 pounds. Seem like he grew a couple of inches. He walked through the door and we were like oh my gosh who is this kid. So that was a pleasant surprise. He has come out and his play has matched his physical growth. So that's been a really good surprise for us.
Another sophomore, Dalton Nichols, who moved in October of last year as a freshman and he was one of those kids that we knew could be a Friday night guy. Could be a Thursday night guy. And he really showed up in the first two scrimmages, where he really earned his way into a varsity spot. His play on the field just surprised the heck out of the entire staff. And we knew he was definitely a Friday night guy for us.
We've had a couple of other surprises. Cory Fouse has come in and played really, really well. He surprised us with his growth and maturity over the summer with what he's been able to do. All of these juniors were on JV last year with the exception of a couple of them and so we had high hopes for them and its nice to see a lot of them stepping into those roles and being exactly what we wanted them to be.
GH: Did anything standout from the two scrimmages that you had? Positive or negative?
BW: Let's see. If I go back to the Farmersville scrimmage, we had a lot of quarterback exchange issues. That was resolved from scrimmage one to scrimmage two. And I think that was just because you got two centers that have never lined up against varsity competition and getting used to a new quarterback with Blake [Hildreth] not having taken snaps from them under a live game situation yet. Those are always little speed bumps that you're expecting.
Defensively the way we flew around and we were tackling really well. And our effort. That's been a big improvement from last year to this year.
Then we went to Quinlan and our snaps got better but our D-backs had an issue with fumbling the ball. So there's always gonna be some negatives. Something you have to improve on. The one thing that really stuck out to me at Quinlan. You know my first two years here when we scrimmaged them, they just physically abused us. They did. They overpowered us and they kind of pushed us around. Up one side and down the other. Both sides of the ball. And this year was the first time we answered the bell physically and we were able to punch them back. It was the best we had played them in my three years here. Seeing that progression, and again, seeing that the kids are buying into it and kind of taking ownership of it. You can tell that what we're trying to build here is really starting to sink in.
GH: You mentioned Blake. Last year we saw him kind of take off from the beginning of the year to the end of the year. He took on that quarterback leadership role and really stepped into that. What have you seen so far this year to show that he's going to be able to take that next step and keep the progression going?
BW: I think for him it is his leadership. Growing up he was always more athletic than those kids around him so he was always playing up and playing with older kids. So he never had to be that vocal leader. He was always a watch me work guy. I feel like this year he has kind of stepped into that vocal leadership role to match his play. That's going to be big time for us.
Also, another year of familiarity in the offense. Being the quarterback and running the show. You can tell his progression. In his confidence in his reads and his steps. Throwing the ball. All of those things have improved tremendously. You know we had a bell cow in Quay Mason last year that we got to rely on at fullback. And he graduated, so now we have a bevy off fullbacks but we have that mainstay at quarterback. And Blake can kind of get things going for us. We're excited for it.
GH: Obviously the heat has been ridiculous with all these days in a row over a 100 degrees. What are some things that you guys have had to do to help combat the heat while still trying to get ready to play football?
BW: That's been a big conversation around here. We have a varsity roster of 30 kids. It's a little lighter than we would like but that's what we have. Our big discussion throughout the summer, because we knew it was going to be that way…was how can we get the kids ready in the least amount of time required. For that very reason. Because on Friday night, we need them to be as fresh as they can be. So for fall camp we kind of just ran them through our normal course and kind of grind on them a little bit. Make them sweat it out and make them earn it a little bit.
Then going into this week, our athletic director Jay Cline had a great idea. We have them coming in a little early so actually we're doing an hour of practice in the morning in the indoor with the fans on. So then in the afternoon it's only an hour and a half outside. That alone has been a huge difference. I think our kids are really gonna be a lot more fresh and ready to go for Friday because they're not spending two and a half hours outside in that ridiculous heat.
That's one way we're doing it. The other way is just preaching on them about being hydrated. And that hydration doesn't start the night before a game. It started on Monday. So getting those things going to try and get them to understand that. I'm hoping that will mitigate some of those issues on Friday.
GH Probably helps that you're at home on Friday and not traveling two and a half hours on a bus.
BW: That and everyone wants to complain about us being on a grass field. But being on natural grass when it's 105 is a heck of a lot nicer than being on turf. You know that turf will 10 to 15 degrees in a hurry. I've seen it melt cleats just getting out there for warmups. Defintely being at home and in our environment and being comfortable will be a big help to us.
GH: Talking about this upcoming season. Coming off a season where you went 3-7 and won the first district win in several season. What does a successful season look like for you this year?
BW: That's always a loaded question and you get that a lot. You hate to put a number of wins as a success because you never know what's going to happen throughout the season. We only have 30 on varsity so you get a couple of bad injuries and we're in a bad spot.
I think the biggest thing is if you see the culture we're trying to instill start to take over. Which we're seeing and you're seeing. The juniors play out of respect for the seniors that have been here and are earning their stripes. And trying to leave this place more successful than they found it. Those are the things we look for to deem whether it's a successful season or not.
I truly believe that if we can stay healthy and we get a little luck, that that we can definitely compete with just about everybody on our on our schedule. If we can do those things and we can make every week just a grind game, and make some people put on alert that North Lamar is different than it was in the past. That's what's gonna make me think this was successful.
If you would like to help support this site, click here